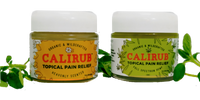 CALIRUB CBD Salve Best Full Specturm Relief
Experience the pleasant, soothing sensation of a CALIRUB Green, full spectrum CBD balm massage. Nourish your skin with thel healing power of essential oils combined with cannabidiol from full spectrum hemp.
Reach for CALIRUB Gold when you need some  soothing first aid for your skin. It's rich with emollients suitable for every member of your family, even those with sensitive skin. Enjoy the therapeutic aroma of our unique blend of 10 essential oils  infused into each of our topicals.
Reward yourself with the exquisite, fragrance of CALIRUB
Open a jar of organic CALIRUB. Breathe the aroma of fresh pine, sweet orange, West Indies Bay and lavandin. Treat your skin to luxurious, long lasting moisture. Sit back an appreciate a healing moment. CALIRUB is the best CBD for your senses.
BUY NOW

Apply a dab of CALIRUB...
Remember to massage it in for several minutes for maximum benefits! Enjoy the non-medicinal, clean, fresh aroma of citrus, pine, lavendar and bay West Indies. Use liberally or sparingly according to your needs A little goes a long way!
Got Scrapes and Bruises? Reach for CALIRUB
Tuck CALIRUB GOLD or GREEN into your first aid kit or backpack and sooth your cuts and scrapes with its natural anti-bacterial qualities from 10 essential organic oils.
Article Here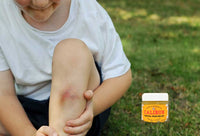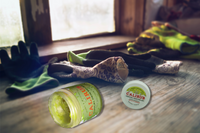 Surprise Your Favorite Gardner With CALIRUB
Nurture those rough, dry hands with a penetrating CBD treat after gardening. You'll appreciate the calming, heavenly scent!
Keep CALIRUB Green on your workbench
Add a dab of full spectrum relief to your hands and massage it ito easy your pain eriodically as you finish those woodworking projects. Men and women alike love cannabidiol at its best with he fresh, outdoor scent!
Testimonials (unsolicited)
I have many joints that hurt regular..used many products over the years..the Cali rub has a nice light smell ..most others have strong smell.. it works quickly also ..it gives me relief ..very glad I now have use of this cream..

Sue Miller
Smells wonderful, works great!

I've been using Calirub for several years since a friend gave me a sample. I use it mostly on my neck and shoulders but also occasionally lower back.
I have a compressed nerve in my neck which occasionally is quite painful & Calirub relieves the muscle tension.
I've used other products with some results. But Calirub works much better. Other products smell really bad, too. I don't want the smell on my sheets or on my clothing in public. I actually got compliments from coworkers on the smell. So floral! I no longer use other products.
My husband uses it to for golfing related strained muscles. We've even gotten some fur his golfing pals. They are believers!
I was so happy to see them back in business after the Camp Fire.

Barbara Williams
I have a hip replacement & Knee replacement, I work retail and am on my feet for 8 hours a day and I just love Calirub! I rub on my legs and feet and I am relieved!! I don't have to take my anti-inflametory drugs anymore!! Calirub is just the best!!
I also use when I can't sleep and rub on my temples and back of my neck, works wonders!! Overall this is the best product for pain relief that I have ever used!!
Thank you CALIRUB!!

Yvonne Martinez
This salve is fantastic on cuts and scrapes-healing is quick and complete. I also put a dab into my hands and rub it quickly through my short hair...gives it a great scent and shine without weighting it down!

C. R.
My back pain was the result of an automobile accident several years ago. I've been to chiropractors and therapists.  Of all the treatments I've experienced the best pain relief has come from using CALIRUB.  I usually experience relief within a couple of minutes.  I absolutely love the smell. I find it calms me and also helps me relax.              

George B.